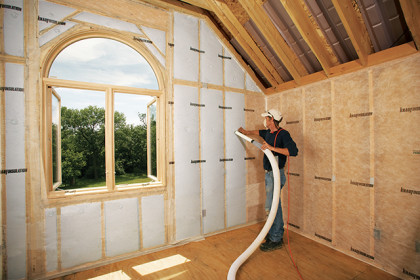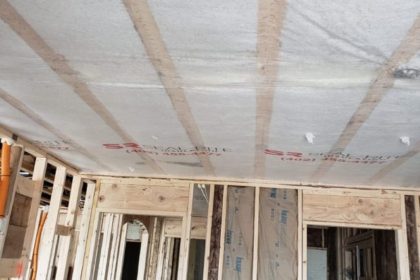 OVERVIEW
Sound barrier insulation comes in many forms and applications.  In addition to greater energy-savings, glass mineral wool insulation delivers excellent sound absorption. When installed between walls and in ceilings, glass mineral wool insulation significantly reduces the transmission of sound from other rooms or from the outside.
For example, installing 3-1/2 inches of acoustical glass mineral wool batt insulation between a 2×4 wood stud wall with 1/2 inch gypsum board absorbs and dampens sound waves resulting in a significantly better sound rating, improving STC (Sound Transmission Class) rating by 3 to 11 points, a significant and discernible difference. The best time to add acoustical insulation is when a new home or addition is built. Ask your builder for details about insulation upgrades.
BENEFITS OF SOUND BARRIERS
Sound barrier insulation provides lower sound travel and improves privacy in homes, apartments and businesses.  It is important to plan ahead to make sure sound barriers are included in your insulation plan.
During a home or building or remodeling, an effective and affordable way to improve the soundproofing performance of walls and ceilings is to put sound control systems in place that may include spray foam, batt or blanket insulation between studs or joists.
Seal-Rite is a commercial insulation contractor in Omaha.  We are family owned and have been providing commercial insulation solutions for homes in the Omaha and Lincoln areas for over 25 years. Seal-Rite has a proven record as an insulation contractor.  We use only the highest quality products to combat rising energy costs. Our goal is to provide both a superior experience and tremendous value for our customers.  Contact our commercial insulation experts for a complimentary quote.