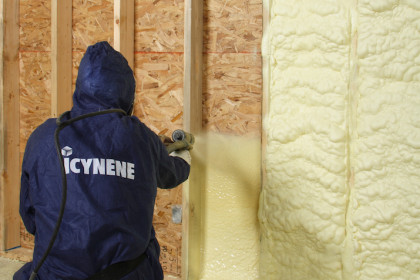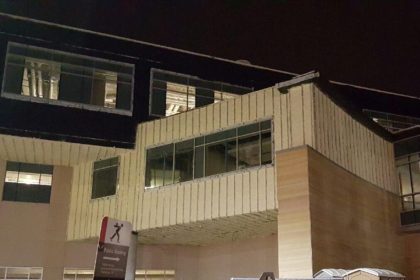 OVERVIEW
Icynene spray foam insulation is an insulation and air barrier material that seals walls, floors and ceiling cavities against air movement, including spaces around electrical outlets and light fixtures and where walls meet windows and doors. Icynene spray foam insulation can provide an effective air barrier insulation to minimize air infiltration through walls and ceilings, preventing drafts, cold spots and energy loss.  With the elimination of air infiltration, spray foam also helps control moisture and reduces HVAC equipment requirements and operational costs. A tight building envelope will reduce energy costs and provide better air quality inside your home or building.  Contact us to learn more.
BENEFITS OF SPRAY FOAM
Spray Foam insulation is a revolutionary product that is far superior to conventional insulations and can decrease your energy bills up to 50 percent.  Additional Benefits include:
Protection Against Moisture
Resistant to Pests
No Settling Over Time
Lowers Noise Levels
Energy Star estimates that by adding high performance foam insulation and sealing air leaks you could save up to 20$ on your monthly energy bill.
COMMON QUESTIONS
Is Icynene spray foam Environmentally Friendly
Icynene spray foams are considered to be an environmentally preferred products due to their air sealing qualities which contribute to improved indoor air quality, reductions in energy consumption as well as greenhouse gas emissions. Icynene is listed in the industry-recognized GreenSpec® Directory and the Green Wizard directory. GreenSpec® products are selected based on independent research which ensures unbiased, quality information.
Does the Foam entrap moisture?
Icynene's open-cell spray foam insulation products are vapor permeable to allow water vapor molecules to flow through the foam. This means any moisture in the building's concrete or lumber can escape through the insulation as the building dries out, thus eliminating moisture that could cause rot or mold.
Icynene's closed-cell spray foam insulation products are able to reject bulk water and block mass transfer of moisture that may cause mold.
Has Icynene spray foam been tested for fire safetey?
Rest assured that Icynene meets code requirements relating to fire safety. Icynene spray foam is a Class 1 material with a flame spread of less than or equal to 25. Independent third-party testing also confrms that electrical wiring is not affected by Icynene. Dangers of overheating were not found to be a concern during testing.
How long will the foam last?
Indefinitely. When correctly installed and not altered, the foam will last the life of your building. Spray foam insulation adheres extremely well to virtually all substrates. Icynene's light density products remain soft and flexible to expand and contract with your home, outperforming all other types of insulation.
Can Icynene insulation improve indoor air quality and comfort?
Icynene seals tiny cracks and penetrations that would otherwise allow unwanted airborne irritants to invade the living space. Home occupants are protected from outdoor allergens, pollutants, and humidity. Icynene makes it easy to get a tight fit around wall openings, such as windows, electrical/cable service entry points, and light fixtures.
Icynene's 100% water-blown spray foam makes it an even healthier option for homeowners. Icynene is recommended for spaces occupied by people with allergies, asthma and other particular respiratory issues.
In fact, Icynene was used to improve indoor air quality as part of the American Lung Association's "Health House" program.
Is there an odor? If so, should I be concerned?
There are no blowing agents such as CFC's (chloro-fluorocarbons) or HCFC's (Hydrochlorofluorocarbons) in Icynene's light density products. Spray foam insulation is produced by mixing 2 components at a high temperature, which causes the foam to atomize during installation. This process creates an odor and requires venting. As soon as the foam "cures" (or sets), which occurs within seconds, it no longer produces the odor. It usually takes about 24 hours for the odor to completely dissipate.